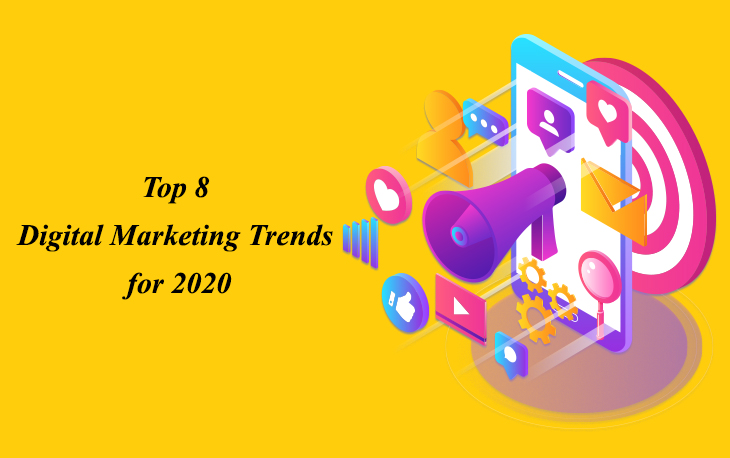 Digital Marketing have seen a rapid phase of expansion in 2019, and is expected to explode at a similar rate in 2020 as well.
Experts have come up with an exhaustive list of trends that are expected to influence Digital Marketing in 2020. Here are the top 8 trends
1. Predictive Marketing: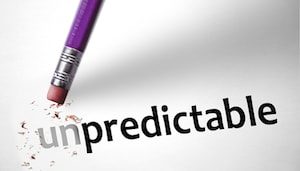 Predictive marketing is a new age marketing technique that employs data analytics to determine which marketing strategies & actions have the highest probability of succeeding.
People are engaging with brands over several social media channels, for getting zeroed before making a buying decision. Interestingly all these brand engagements are unstructured in nature. Predictive marketing makes use of these unstructured interactions, and can trace existing positive data patterns & can anticipate results accordingly.
IA report by Zion Market Research has stated that global predictive analytics market was valued at approximately USD 3.49 billion in 2016 and is expected to reach approximately USD 10.95 billion by 2022, growing at a CAGR of around 21% between 2016 and 2022
Predictive marketing is a new age marketing technique that employs data analytics to determine which marketing strategies & actions have the highest probability of succeeding. marke8now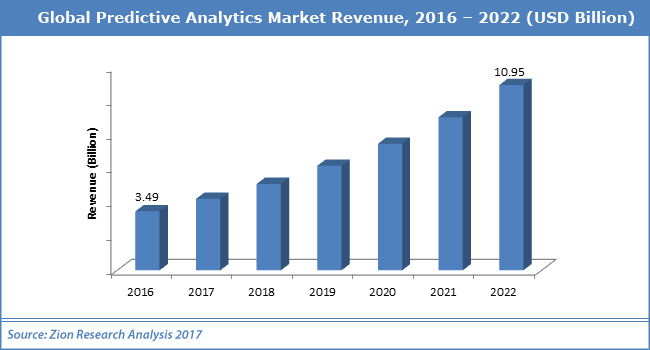 Usually predictive marketing is employed in scenarios like:
Deciding the sequence of messages to deliver, for influencing a lead's purchase decision.
Identifying the most promising channel for message delivery like Email Vs SMS Vs Push
Determining the type of messages to send to a customer based on his/her buyer stage.
Predictive Marketing has been finding its place in many industries, the best application for predictive marketing can be found in hospitality industry. Hotels and resorts are know predicting the expected number of guests on a particular day or event to increase their booking rate.
2.Automated Ad Bidding:
A recent report by emarketer has stated that Google ($103.73B ad earnings) and Facebook ($67.37 ad earnings), topped the digital ad spend in 2019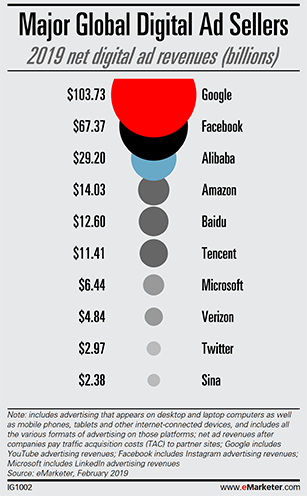 While there is a phenomenal growth of digital ads market in 2019, brands however are expecting a better Return on Investments (ROI) in 2020 using smarter ad bidding options.
This made the top 2 ad sellers to explore for new options in ad bidding. Google have recently announced a smarter automated bidding, that leverages machine learning for optimizing campaigns towards selected performance targets in each and every auction.
This feature also known as "auction-time bidding" also includes variety of bid strategies such as Target CPA, Target ROAS, Maximize Conversions, or Enhanced CPC. These strategies can be employed at campaign level, group level or portfolio level.
Both Google and Facebook may focus on offering local business and event-based support for filling the gap between local experiences and advertisers.
3.Shoppable Posts: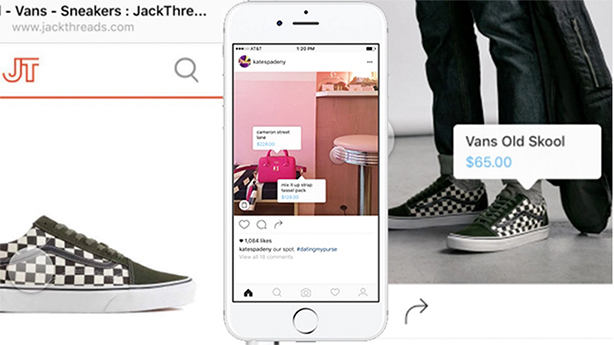 It was in 2018, shoppable posts had been introduced in Instagram, a native integration that makes it easy to tag and shop products directly from your organic Instagram posts.
2020 is expected to witness the phenomenal growth of shoppable posts, as they can be integrated easily with 3rd party apps and e-commerce marketing technologies.
According to an estimate by Instagram "the number of active worldwide users is 1 billion and 90% of them are following shopping brands."
This type of huge following for shopping brands can help in triggering buying impulses through feeds and stories, for ecommerce businesses.
Along with measurable numbers and traffic, interactive ads would minimize bounce rate and reduce the sales funnel, along with seamless online shopping experience for customers.
4.SEO Structured Data
According to an estimate in the first quarter of 2019, 49 % of the searches in Google resulted in no clicks, which has clearly shown that almost half of the websites had missed the chance of gaining traffic through SEO.
In yet another shocking observation from 2019, businesses had experienced a decline in traffic through organic & SEO efforts.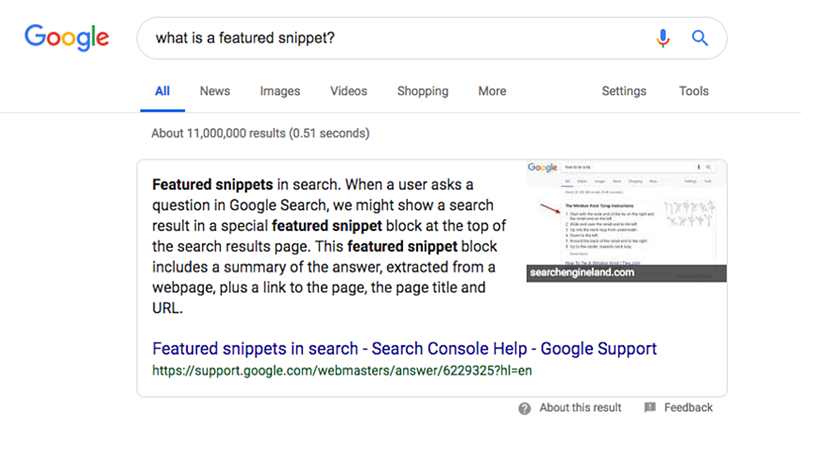 On the other hand Google have been displaying Visual Search Snippets in its Search Engine Result Pages (SERP) on high priority. These snippets allow visitors to access all the information they are looking for in a faster way, and can also help them in deciding on the the right website to click through, right from the top results.
A recent study by Path Interactive, have stated that "among people aged between 13 and 18, 40% of them are going to get what they need through rich snippets."
These search snippets can drive more informed click-through traffic and also can reduce bounce rates dramatically. However these rich snippets are a big part of structured data and Schema Markup which is expected to gain more prominence in 2020.
5.Interactive Email Experience:
Engagement based Emails is one of the biggest trended wings of digital marketing in 2019, in 2020 however Emails are expected to evolve more in terms of email consumption, design and delivery.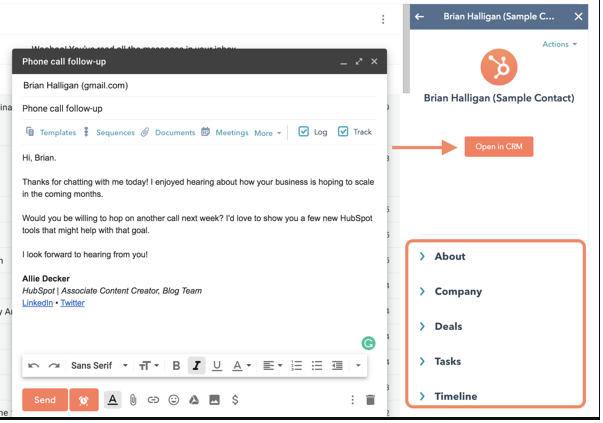 For example, Google Amp supports more naked emails (plain text) and more interactive email.
According to an estimate 91% of buyers in online are looking to take action(purchase) right from their emails, instead of visiting an external page for taking action.
Dynamic or interactive content can help this type of customer behaviour, and there by benefiting businesses. These types of dynamic content include polls, quizzes, surveys, animated call-to-action buttons, and add-to-calendar events.
6.Multi-Channel Social Media Messaging:
Marketers are exploring various channels for interacting with potential buyers and also existing customers that are distributed across the web. Various messaging apps are utilizing this opportunity, and are providing with new APIs for bridging between businesses and customers.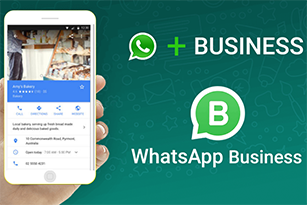 Apps like WhatsApp, Facebook Messenger have upgraded their service reach from personal usage to business. Both FB and WhatsApp are providing marketing features like automated bots, and several other sophisticated features.
As Facebook, WhatsApp networks account for nearly 4+ Billion customers worldwide, more businesses are expected to expand their customer engagement channels, and adopt at least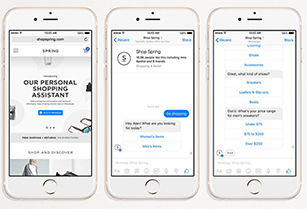 This strategy helps brand to effectively communicate with their audience and improve their personalization strategies, on the other hand customers can also engage with brands, without worrying about anonymity.
This type of expansion helps marketing platforms for tracking data more accurately, and in creating a better attribution model for tracking the sources of conversion.
7.Marketing Automation:
A research by Forrester have stated that "Global Marketing Automation Spending Will Reach $25 Billion By 2023" Templated MA campaigns and integrated single-point solutions will be a 2020 trend. This is because marketers are seeing a bottleneck in marketing ops due to the amount of work needed to execute a given campaign.
Marketers are looking for consolidated tools, which can be deployed with less effort. A template campaign can include a couple of landing pages, ready forms, data tracking and workflow with all its messages, created based on campaign goals, such as a paid ad campaign.
Template campaigns can help in reducing down time, decrease cost and focus on improving their content instead of doing redundant work.
On the other hand, better integration and single point solution, also allows for cross-channel reach and personalization, which is a key driver to conversion optimization.
8.More Power to Voice Search:
Voice search has dominated the search engine trends in 2019, and 2020 is also estimated
the year of voice search with its estimated share to be 50%.
Brands can leverage devices like Alexa, Microsoft's Cortana or Google Home, to provide
voice-service to customers, which are now confined only to providing users like answering questions and playing music.
For example, companies like Blutag are helping brands to turn their product catalogues into fully fledged voice-enabled marketplaces and let their customers use their existing voice enabled devices to place orders with simple voice commands. This helps in simple and quick customer experience, and also in achieving their intended results fastly. https://www.youtube.com/watch?v=Ww-Lj3VbD54
We at Marke8Now can help your business to grow, by providing an amazing array of Customer Centric Strategies with wide range of Digital Marketing & Development Services including Branding, Social Media Marketing, SEM/PPC, SEO, Web & Mobile Application Development, etc.
Do visit our website at http://marke8now.com for further details and reach us at (+1) 832 906 7001 or e-mail us on info@marke8now.com
Source : https://searchenginewatch.com/2018/12/14/travel-seo-guide/116343/