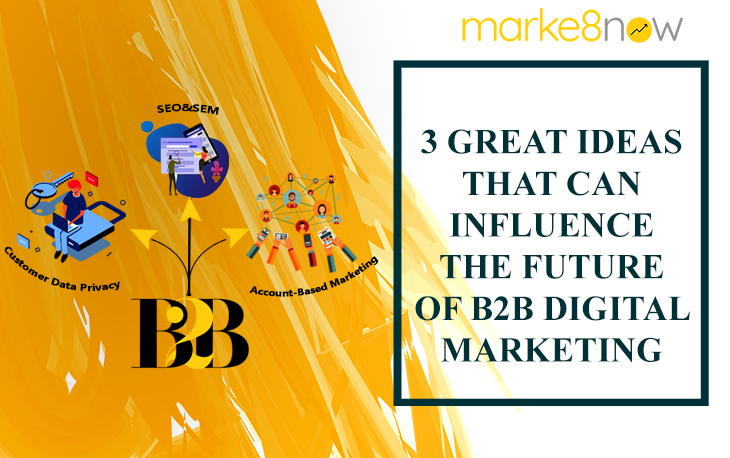 It was only from a short span of time, B2B companies are investing into Digital Marketing tactics like Paid Social Media Ads.
The interesting thing over here is that B2B companies don't just compete with each other for attention, these companies are also competing to deliver the best digital experience for their audience. Customers have been expecting flexibility and comfort from B2B companies for doing businesses marke8now
As of now many B2B organizations have been investing in digital marketing infrastructure, however according to experts the future of digital marketing in B2B lies in these 3 key areas.
Customer Data Privacy:
Quantitative data of individuals like health and personal data are considered to be private, notably there is a conception in people regarding this personal data, that the data is available to companies as well.
Privacy & personal data of customers are considered to be the top most priority for any company. Travelling in the lines of European Union's General Data Protection Regulation, USA is also considering its own version of data protection laws and policies.
Along with these developments and continuous data breaches from popular social media channels like Facebook & Twitter, people are more worried about their privacy. As per expert's prediction this concern level is so high, that the audience may stop engaging on said social media channels.
Customer data should be the top priority for marketers. All marketing strategies should be crafted keeping the security of personal data in their minds.
Search Engine Optimization & Marketing:
As of now audience are facing a content overload from several brands. The only way to deal with this content overload issue is to avoid all forms of marketing. This will result in decrease of communication channels for brands.
Search Engines are considered to be a great solution for this problem, as they were the most neutral grounds for organizations to meet their potential customers.
Companies focusing on SEO can provide relevant information to their customers, for those who are looking for fact-gathering and searching phase of their buying journey. Feeding customers with the data to make decisions, and making it easy to find, companies can create an impression in customers mind during the time of purchase.
Account Based Marketing:
ABM helps companies take the long view with customers because it requires the creation of a long-term strategy and requires companies to consider their long-term goals with acquiring an account.
Account Based Manufacturing (ABM) is considered as one of the most efficient ways of marketers to take long view with their customers. Precisely ABM is a strategic marketing approach that targets the best-fit accounts for sales and marketing efforts.
It can help companies to take the long view with customers, this is required for creating a long-term strategy and requires companies to consider their long-term goals with acquiring an account.
It is considered to be a multichannel, highly targeted approach to marketing. This comprises of few offline tactics as well, however most important and effective ABM tactics — such as IP address-targeted ads, customized website experiences and personalized videos are online only.
This strategy of targeting right customers and delivering content that it is relevant to them, companies can avoid so much of waste from their marketing. This can also help in merging marketing and sales efforts quickly and comfortably.
ABM ensures an efficient marketing system by handling the flips of fundamental marketing. Companies need to identify their ideal customer profiles and dream accounts before switching into ABM.
We at Marke8Now can help your business to grow, by providing an amazing array of Customer Centric Strategies with wide range of Digital Marketing & Development Services including Branding, Social Media Marketing, SEM/PPC, SEO, Web & Mobile Application Development, etc.
Do visit our website at http://marke8now.com for further details and reach us at (+1) 832 906 7001 or e-mail us on info@marke8now.com
Source : https://searchenginewatch.com/2018/12/14/travel-seo-guide/116343/